On June 18, 2019, Facebook and its 27 partner companies announced their plan to launch Libra, a digital currency. The giant social media platform also said that they intend to launch Libra sometime in 2020.
Libra is a cryptocurrency or a digital currency developed by Facebook intended to make online financial services cheaper and faster. It is especially beneficial to people who don't own bank accounts or have little or no access to banking.
Facebook plans to build Libra upon a blockchain platform that it wants to call the Libra Network. A blockchain is a system that's composed of a series of servers that validate and record every transaction that is made on the network. Common cryptocurrency networks allow any server to connect to the chain, but the Libra Network is a bit different because it is a permissioned blockchain which means that only allowed servers can join the chain.
In its announcement, Facebook stressed that they want Libra to run faster than other cryptocurrencies to make it a practical instrument for everyday use like buying an item online.
Here are the most important facts you need to know about Facebook's Libra Cryptocurrency:
1. Facebook wants Libra to become a simple global currency that is accessible to everyone.
According to Facebook, there are about 1.7 billion adults who have zero or limited access to a bank or financial system. It added that with a stable cryptocurrency, getting access to a financial system will no longer be a problem.
2. Designed to run on Blockchain, Libra is created with Move programming language.
The Libra Network is designed to meet three essential requirements:
Security
Flexibility and adaptability to innovations and future requirements
Scalability – because it is working with billions of accounts
3. Facebook does not control the currency.
Facebook is just one of the stakeholders of Libra which is composed of renowned high profile organizations both in the real and cyber markets. The companies that are currently backing the cryptocurrency include:
Uber, Spotify, PayPal, Mastercard, Visa, eBay, Lyft, Stripe, Xapo, Anchorage, Thrive Capital
Ribbit Capital, Vodafone, Mercy Corps, Women's World Banking, Kiva, Booking Holdings
Farfetch, Andreessen Horowitz, Mercado Pago, coinbase, Breakthrough Initiatives
Creative Destruction Lab, Union Square Ventures, Bison Trails and Iliad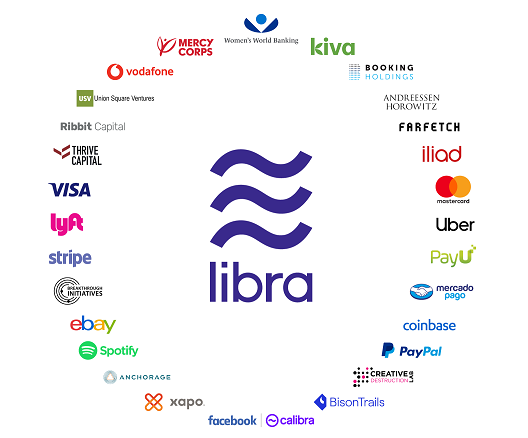 These are just the first few companies that showed support for Facebook's Libra cryptocurrency concept. All of these businesses will be responsible for making important decisions for Libra. These stakeholders are governed by the Libra Association, an independent, non-profit organization, as far as the direction and future of Libra is concerned.
4. Libra will be available to Facebook users.
Being a community and a market at the same time, it is not surprising for Facebook marketing management to allow its own account holders to use its cyrptocurrency. The giant social media platform is even planning to create a special wallet for the cryptocurrency by the name of Calibra.
5. Despite it's announced launching schedule, Libra may not be able to take off.
The Libra project has become a target of lots of significant backlash from lawmakers and financial authorities. Besides, cryptocurrency is not yet popular and well-accepted by the general public. The fact that laws regarding digital currency are still in the development stage can play a major factor for the delay of its launch.
6. David Marcus is Heading Facebook's Libra Campaign
Marcus is the current head of Libra. He was a former president of Paypal, a giant online payments website. He is also the founder of Zong, a mobile payments facilitator that eBay acquired in 2011 for $240 million. He transferred to Facebook in 2014 as vice president of messaging products.
As a Facebook marketing management specialist, we come prepared for the future of cryptocurrencies. We strive to keep ourselves updated with the latest techniques to boost the visibility and branding efforts of our valued clients.
Call us at (303) 466-3055 for your SEO, SEM, social media marketing and web development needs.