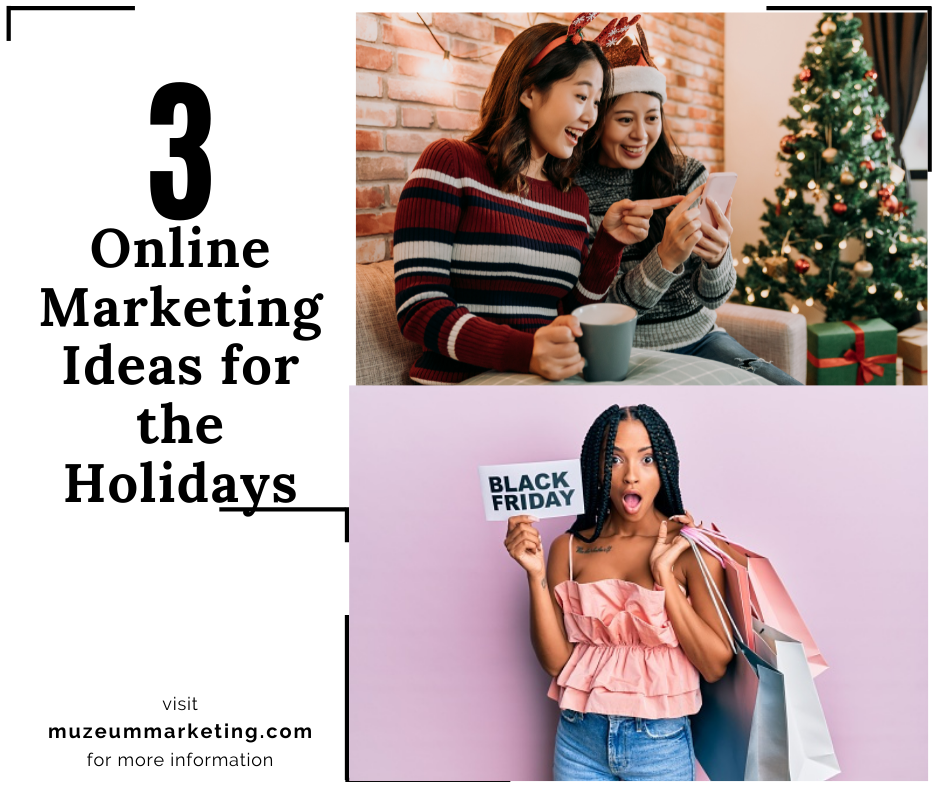 The holiday season is known as the most wonderful time of the year.  For many businesses, it's also the busiest time where they could get a slice of the massive consumer spending pie.  The majority of each year's retail sales happen between Black Friday and Christmas day.
The festive season indeed provides opportunities to capitalize and turn one-time buyers into regular customers.  That said, it's a bit challenging to stand out among the many businesses looking to capitalize during this season, especially if your marketing budget can't compete with that of large corporations.
Fortunately, a big budget is not necessary to make a big impact on your holiday online marketing strategies.  Check out this compilation of three smart digital marketing ideas you can use to give your business a boost during this year's holiday season.
Ramp Up Your E-mail Marketing Efforts
E-mail is a powerful tool for any business in any season.  During the holidays, e-mail should be the main focal point of your online marketing.  According to surveys, 38% of shoppers believed that e-mails from brands or retailers are the most helpful for learning about holiday deals and promotions.  Use e-mails as your primary vehicle to announce your holiday promotions or promote flash sales.  
If you've managed to build your e-mail list all year long, now is the time to use it to the fullest.   Try to test using various subject lines and e-mail topics that encourage people to engage at a much higher rate.  Open rates rely heavily on good subject lines.  If it isn't compelling enough, your e-mail might go straight to the trash bin.
Also, try to come up with a seasonal theme for your e-mails.  Then, keep using this template throughout the season.  Plug in new images, and copy as needed.  Lastly, make sure to link everything – buttons, texts, or images.  Give your subscribers the option to click and get redirected to your website in multiple ways.
Post-Holiday-centric Blogs
Next to e-mail, blogging is a perfect starting point for your holiday online marketing.  Putting out holiday-based articles helps your SEO and provides a landing page for your e-mail marketing.  Moreover, you can also repurpose them into bite-sized content for social media.  If you need help with these, partnering with a digital marketing agency can go a long way.
Product-based businesses can write gift guides for the holiday season.  These guides can match different shopper personalities, both online and in-store.  Making these guides more niche and specifically gives a more personal touch that your customers will love.
Post your blog as early as you can so people will have time to read your blog post, digest the content, browse your website, add items to their cart, and receive their purchase just in time for the holidays.  On the other hand, service-based businesses can use blogs to discuss trends during the year and ways they can help clients during the holidays.
Update Your Website To Match The Season
Your website is where most of the magic happens.  Your holiday online marketing ideas come to life and convert into sales.  Most of the year, you can get away with keeping your website looking the same.  It will help significantly if you add seasonal-specific copies and designs to your banners and popups during the holidays.  
You don't have to redesign your website from top to bottom just for the season.  You can simply update certain sections.  If you don't have time or want to focus on other vital facets of your business, consider investing in a Colorado digital marketing service to help you make updates to your website while you prep for the festive season.
Another thing you could do is create holiday product collections from your existing inventory.  Curate product collections based on different shopper personalities or prices like Christmas gifts under $100 or best Christmas gifts for Her.  New collections make it easier for your customers to find what they're looking for while boosting your SEO at the same time.
Conclusion
There's more to holiday online marketing than a few posts on your Facebook Page showcasing your Black Friday or Christmas offers.  The key is to diversify your holiday marketing tactics.  Use the ideas in this post to plan before the festive season officially kicks in.
If you require a Colorado digital marketing service for the holidays, let us help.  Contact Muzeum today to learn more about our digital marketing agency and the services we offer.