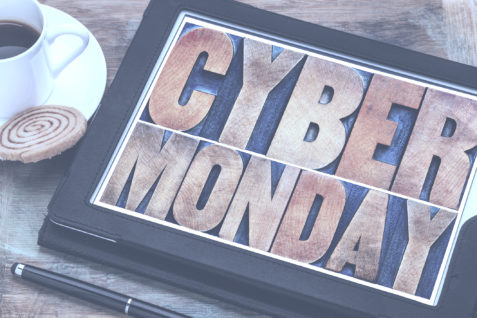 Every person well-versed with American Holidays is aware that Cyber Monday holds one of the best year-round opportunities to drive sales in the retail and hotel business. What started out as a one-day online shopping affair has turned into weeks. Now, it is not uncommon for both physical and virtual stores to extend their promos and sales gimmicks starting before Black Friday until after Cyber Monday.
This made consumers unknowingly develop a habit of looking for deals earlier, or take advantage of promos that go beyond the normal shopping holidays.  According to a 2017 report from Adobe Analytics, the amount of money spent by US consumers shopping online between Thanksgiving and Cyber Monday was $19.62 billion. It is a huge opportunity for revenues every e-commerce business find hard to ignore.
The presence of millions of e-commerce sites has caused a heavy saturation of the online Cyber Monday market. Competition has become so fierce and stiff that getting consumer attention is almost impossible to do without sacrificing regular prices. But the surge in spending and online traffic can reassure businesses of a big potential for sales. And they will lose a lot of opportunities if they don't join in the holiday sales madness.
Every retail and hotel business wants a slice of the shopping holiday market pie, but not everyone has the right tools and strategies to get it. To make your business stand out in the midst of competition during this shopping season, you should consider these tips:
1. Run a longer campaign to make your business visible.
Many retailers and brands are already aware of the great influence online deals have on consumers, and almost all of them are shifting their marketing budgets towards digital channels. This can make any particular marketing campaign harder to notice, and a one-day sale is surely not enough to catch consumer attention.
Make your way through this by launching a two-week promo (e.g. sale) to attract attention. This should begin the week before Cyber Monday and make you competitive during the time when a majority of consumers are still searching for attractive offers.
Create a marketing plan that sparks traction and opportunities for revenue. You may promote your campaigns on social media even before the campaign begins. This will create a sense of awareness in your target audience. As you can see, it takes an average consumer a number of days and several site visits before finally making a decision to complete the purchase.  Your marketing strategy should be able to give your audience enough time to go through the different phases of the online buying process namely: 1) discovery, 2) planning, and finally 3) booking or purchasing.
2. Promote hard-to-resist discounts.
Promos are overflowing in the marketplace during Cyber Monday. That said, it would be crucial and imperative to make offers that consumers find hard to resist. A special offer of at least 30% off the regular price sounds good, but you can make it better by including value-adds to your merchandise such as offering free technical support for the purchase products you sell, or other additional freebies that can add value to your merchandise.
You may also consider offering a flash or lightning sale on Cyber Monday to create a deeper impact on your target market. Do this by offering large price slashes of say 50% from the regular price for a limited period (e.g. offer is good from 1:00 pm to 2:00 pm today only). This will surely attract sure buyers. Lots of airline companies are doing this from time to time with success.
3. Make interactive content for your offer.
Image source: 123rf.com
Making an offer that stands out is the name of the game this shopping season. Create an offer that makes a difference by launching a mini-site or interactive application to serve as a hub for your current marketing campaign. The mini-site you create should have the look and feel of your original website. It should also have dynamic content that features a persuasive call to action. You may also highlight the exclusivity of your special offer by featuring a live countdown clock of your promo. It stimulates users' sense of urgency and desire to buy.
You can also attract the attention of your audience by adding interactive content to your campaign landing page. According to Content Marketing Institute, 87% of marketers who use interactive content assert that it catches viewer attention better than static content. Additionally, interactive content makes users feel that they are being valued. The experience makes them willing to give their email address or social media account info. This gives your business certain benefits in terms of lead generation and better potentials for sales.
4. Increase your marketing budget.
Ensure the success of your Cyber Monday marketing campaign by increasing your marketing budget to two times your previous year's budget. The high demand for online advertising coupled with rising competition for top spots in the search results page will certainly trigger an increase in the cost of initiatives such as Google's paid search, social media advertising, and display advertising. These marketing platforms also want to make a big hit from this marketing campaign fever. If you choose not to increase your budget, chances are your online visibility and share of voice in the cyber market will go low. This can mean loss of potential for revenues.
5. Extend your promo for two more weeks.
You can drive additional revenue by extending your sale for two weeks combined with a lower discount of say 15 – 25%. This is a common strategy for a lot of retailers because it can capture potential consumers who may still be considering a sale even if the shopping holiday has ended.
You should consider these tips for your Cyber Monday marketing campaign. All marketers all know that competition for online visibility is soaring high this time of the year. But because of the expected volume of shoppers, you can still consider it as a chance to increase traffic, build brand awareness, and drive sales.
As an online marketer and e-commerce business person, your primary objective this Black Friday, Cyber Monday, and beyond is to increase sales revenues through a visible, more engaging marketing campaign.
This is not rocket science, but it sure requires careful planning and precise calculation. Anything below these could make you miss your target.
Make the shopping holiday bring a pleasant online experience for your audience and good fruits for business. Make it even better with professional help from Muzeum Marketing. We can leverage the faculties of digital marketing to make Cyber Monday and the rest of the shopping holiday produce great returns to your website – and ultimately your business.
Should you wish to make a difference in your digital performance this season – feel free to give us a call at (303)-466-3055 or through our toll-free number 1-888-311-1053. We will make you succeed in the digital market.